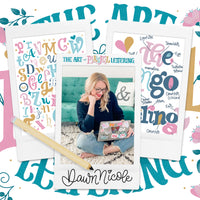 Welcome to my Lettering Shop!
As a full-time freelance lettering artist, I've been creating and teaching the art of playful hand lettering and modern calligraphy for over ten years.
On a personal note, I'm an Air Force Wife and mom of three. I'm based near St. Louis and work out of my home office.
You can usually find me with an Apple Pencil in one hand, an espresso in the other, and three giant breed dogs under my feet.
Scroll down to see some of my shop's featured items or use the menu bar along the top of the page.
Have questions? Email me below!
Email Me →
Featured Procreate Brush Sets
---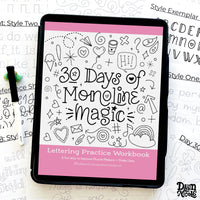 30 Days of Monoline Magic (Best-Seller!)
Improve your muscle memory and smooth out your shaky lines all while you're having fun! You'll learn seven fresh lettering styles while completeing this Monoline Workbook.
Check it out!
Dimensional Lettering in Procreate Online Class
In this new class, I'll take you step-by-step through nine different dimensional lettering styles. At the end of the class, we'll create one collective project using all the letters we created. You'll need an iPad, Apple Pencil, the Procreate App. The Procreate Brushes, Color Palette, and Class Reference Guide are all included in this course!
Enroll now!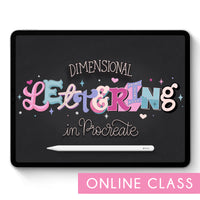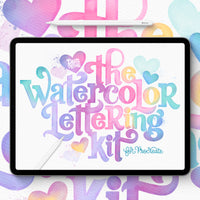 Fun with Watercolor
15 fun new Procreate brushes designed to give your digital creations a realistic watercolor lettering look. This brush set is my favorite to date.
Be sure to check out the corresponding new Watercolor Lettering Procreate Class below!
Watercolor Lettering Kit for Procreate
Watercolor Lettering in Procreate Online Class
Learn to create gorgeous watercolor lettering pieces in the Procreate App.
This Project-Based Learning class is a little over 90 minutes long. It is broken down into 5 Chapters and includes 30 video lessons. You'll learn the exact techniques I use to create gorgeous digital watercolor art.
You'll need an iPad, Apple Pencil, the Procreate App, and my Watercolor Lettering Kit Brushes for this class.
Learn More →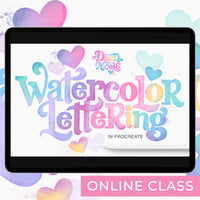 Feedback from my readers + Customers
"It's great! I love just how much info she gives you. She really doesn't hold back, but instead loads every page full of useful things to try as well as her favorite materials. It's obvious that her aim is for you to be successful, not just to sell her product." 

Bridget T.
I love everything that Dawn shares to teach hand lettering and brush lettering. I say I taught myself, but she actually taught me because I utilized her resources. Thank you, Dawn! I have a new obsession. 

Angela T.
You do such fabulous work and are very generous, giving and caring - definitely shows in all you do. Thank you for being YOU and for adding so much fun, inspiration, colour, energy, kindness and caring to my world. I am truly grateful!

Marilyn B.